Event Info Menu
Soundoff Organization
Event Info
Event Results
Members Only
Like This? Tell Us!
Page Sponsor
1023 Visitors On-Line
Sponsor Information
Boomin Audio Competitions
800 N. Archibald Avenue
Ontario, CA 91764
USA
Tel: 909-486-3369
Event 13056 Information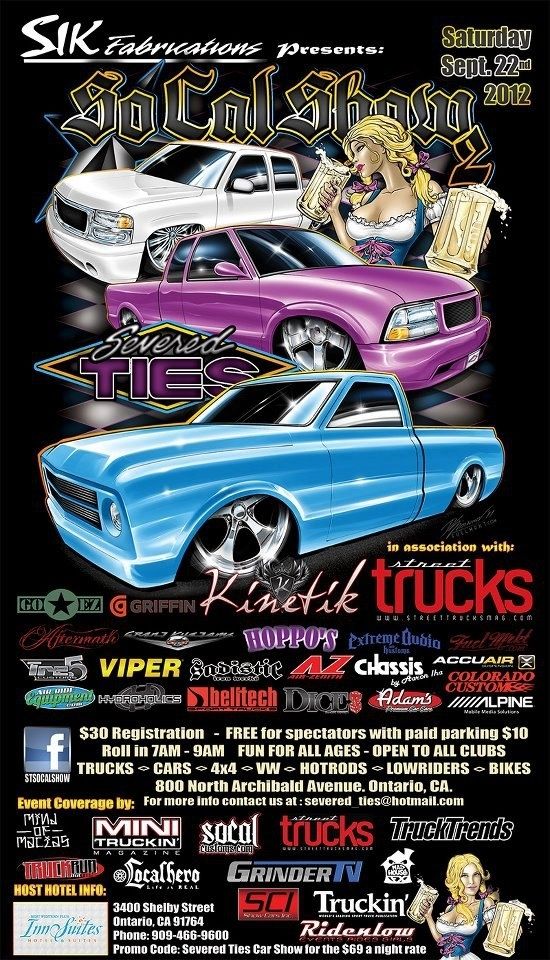 Event Date:
September 22, 2012
Event Details:
• Registration Opens: 7AM - 9AM
• Contest Begins: 9AM
• Entry Fee: $25 for one class / $40 for 2 PLUS THERE WILL BE A $5 GATE FEE
• Prizes: FRAMED CERTIFICATES
• Other Info: CAR SHOW AND COMPETITOR ROLL IN WILL BE FROM 7AM TO 9AM. NO CARS WILL BE ALLOWED TO ENTER THE SHOW AFTER 9AM. GATE FEE WILL BE COLLECTED AT THE CAR SHOW ENTRY GATE ONLY. DO NOT ENTER THROUGH THE REGIONAL PARK ENTRY, THEY WILL CHARGE YOU $10 TO PARK AT THE PARK AND IS NONREFUNDABLE.
2012 Season Events
Date
Venue
Location
Results
September 22, 2012
Yes
2011 Season Events
Date
Venue
Location
Results
October 15, 2011
Yes
December 18, 2011
Yes
2009 Season Events
Date
Venue
Location
Results
April 25, 2009
Yes
2006 Season Events
Date
Venue
Location
Results
February 25, 2006
Yes
April 23, 2006
Yes
July 30, 2006
Yes