Event Info Menu
Soundoff Organization
Event Info
Event Results
Members Only
Like This? Tell Us!
Page Sponsor
1022 Visitors On-Line
Sponsor Information
Meece Car Audio
169 W. Avenue J-5, Ste F
Lancaster, CA 93534
USA
Tel: 661-948-2266
Event 12770 Information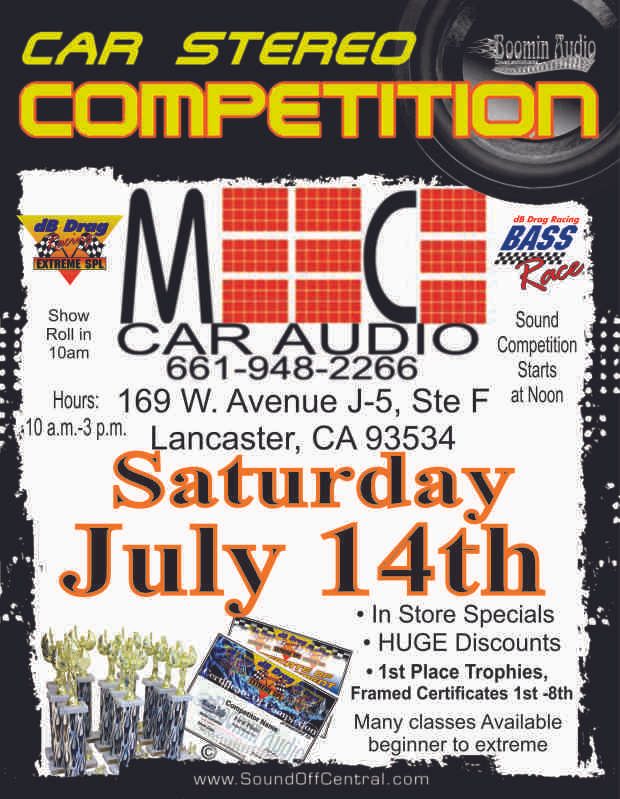 Event Date:
July 14, 2012
Event Details:
• Show and dB Drag/Bass Race Event & Show
• Roll in: 10am, Sound competition starts at Noon
• Sound Competition Fee: 25/40
• Prizes: 1st Place Trophies & Certificate 1st-3rd
• Other Info: Manufacture Reps will be there, big bass and even more loud vehicles.
2015 Season Events
Date
Venue
Location
Results
September 26, 2015
Yes
2014 Season Events
Date
Venue
Location
Results
March 15, 2014
Yes
2012 Season Events
Date
Venue
Location
Results
July 14, 2012
Yes