Event Info Menu
Soundoff Organization
Event Info
Event Results
Members Only
Like This? Tell Us!
Page Sponsor
599 Visitors On-Line
Sponsor Information
Stereo Shop
17336 Foothill Blvd
Fontana, CA 92335
USA
Tel: 909-355-4616
Event 8879 Information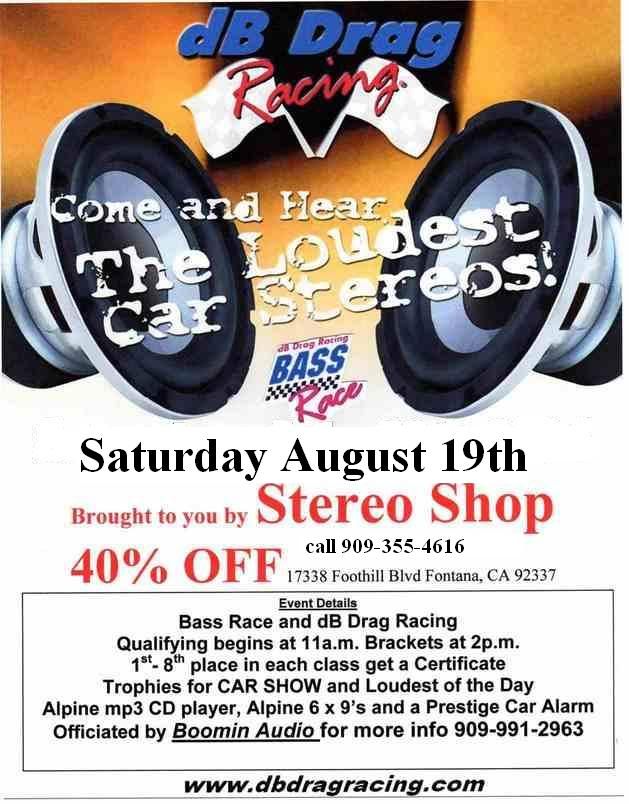 Event Date:
August 19, 2006
Event Details:
Event Date is Saturday, August 19th
Qualfing Begins @ 11 a.m. and Brackets at 2 p.m. Certificates for 1st - 8th Trophy for the "Heavy Hitter" of the Day. We are also having a car show in conjuction to the db Drag racing competition. Car show Trophies: Club Participation Best Import Best Domestic We will be having a Boomin Raffle as well So far we have an Apline mp3 cd player, a set of Alpine 6x9s and a car alarm.
2008 Season Events
Date
Venue
Location
Results
May 10, 2008
Yes
August 2, 2008
Yes
2007 Season Events
Date
Venue
Location
Results
October 28, 2006
Yes
2006 Season Events
Date
Venue
Location
Results
July 29, 2006
Yes
August 19, 2006
Yes