Event Info Menu
Soundoff Organization
Event Info
Event Results
Members Only
Like This? Tell Us!
Page Sponsor
195 Visitors On-Line
Sponsor Information
Sound Source Inc.
4465 Hiline Rd
Chubbuck, ID 83202
USA
Tel: (208) 233-0011
Event 12953 Information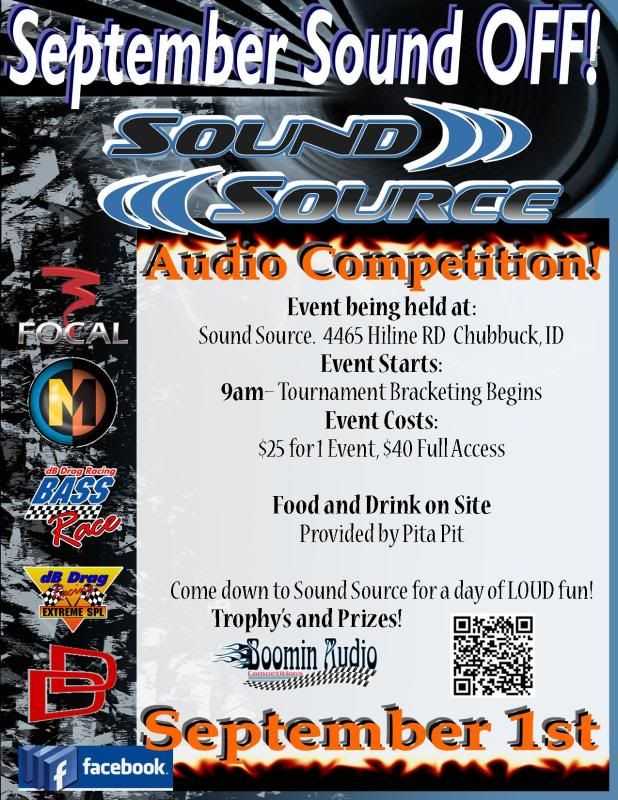 Event Date:
September 1, 2012
Event Details:
• Registration Opens: at 9 am
• Entry Fee: 25 for 1 category and 40 for both Bass Race & dB Drag
• Prizes: Full Trophies 1st - 3rd in all classes
• Other Info: Pita Pit on site for food and drink
$50 Pita Pit Gift Certificate
Tattoo provided by Saltys Tattoo
$50 in car washs provided by Pro Clean Car Wash
2 Complete service oil changes by Commercial Tire
$50 Gift Certificate from The Press Box
$50 Gift Certificate from The Wing It &
A gift package from Pocatello Power Sports

There will also be Free giveaways from manufactures and Sound Source.
2014 Season Events
Date
Venue
Location
Results
September 27, 2014
Yes
2013 Season Events
Date
Venue
Location
Results
May 18, 2013
Yes
September 21, 2013
Yes
2012 Season Events
Date
Venue
Location
Results
July 28, 2012
Yes
September 1, 2012
Yes